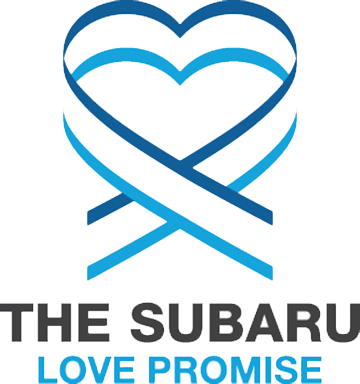 What is the Subaru Love Promise?
Subaru and our retailers believe in making the world a better place and the Subaru Love Promise is our vision of respecting all people. This is our commitment to show love and respect to our customers and to work to make a positive impact in the world.
How is Koenig Subaru dedicated locally to the Love Promise?
Our Love Promise can be seen in various partnerships with local charities and non-profits. We're grateful for the opportunity, not only to be a part of our community, but to serve it as well.
Olympic Penninsula Humane Society
Love Promise Stories from Koenig Subaru
Subaru and Koenig Subaru believe in making a positive impact on the communities in which we live and work. We uphold that belief through our Love Promise Community Commitment. Every month, we select inspiring stories from customers and partners from around our area who strive to support our collective commitment and feature them here
Olympic Peninsula Humane Society - Luanne H
How do you begin to thank someone for their many years of unwavering support of homeless animals? Frankly, words just aren't enough. Since the inception of the Share the Love event 12 years ago, Koenig Subaru has selected Olympic Peninsula Humane Society as a hometown Charity of Choice for Subaru of America's annual event. OPHS has cared for and placed thousands of surrendered animals that need a second chance for happily-ever-after through the funds received. Subaru is an organization that cares for the community and the animals that are very much part of our families. Thank you, Subaru of America and Koenig Subaru, for exemplifying what Love Promise truly means. Luanne Hinkle, Executive Director-Olympic Peninsula Humane Society (OPHS)
---
Sharing The Love Promise with PFOA - Danette G
In an unprecedented and challenging year, Peninsula Friends Of Animals was honored and most grateful to be chosen as one of Koenig Subaru's Hometown Charities for the 2020 Share The Love Event. PFOA's mission is to prevent the birth of unwanted cats and dogs through progressive spay/neuter programs and to place as many homeless, neglected and abused animals as possible into good, safe, permanent homes. With the charitable monies generated through the 2020 campaign, Koenig Subaru is empowering our no kill, donor supported, non profit animal welfare organization to sponsor additional low cost s/n clinics for the animals of low income pet guardians. There is a backlog of animals needing this critical surgery as they were suspended due to Covid 19 restrictions. This generous charitable gift will also assist with needed veterinary care for our adoptable kitties, including many senior cats, who come to us needing dental work and treatment for health issues such as hyperthyroidism. Our heartfelt thanks and a huge Paws Up to Koenig Subaru for sharing their Love Promise with the rescues of PFOA. Danette Grady Executive Director
---
Donnations - Johnny A
I would like to share about the very kind donations provided by Koenig Subaru to our homeless shelter here in Port Angeles. Because of their most generous donation, we now have plenty of blankets to go around for our guests. This is such a critical item for us, specially this time of year, most of our folks come into shelter cold and wet. With this most thoughtful gift, they can change into dry clothes and then cover up with a nice warm blanket. On behalf of Serenity House Shelter and staff, thank you again for this wonderful gift! Sincerely, Johnny Ankrom Director of Shelter Serenity House of Clallam County
---
OPHS Receives $15,150 of Subaru Love - Jacquelene P
The Olympic Peninsula Humane Society (OPHS) received $15,150 as a result of funds gathered from the Subaru Share the Love® Event conducted by Subaru of America and local Port Angeles dealership, Koenig Subaru. The nationwide program, which ran from November 2019 through the beginning of 2020, allowed local purchasers of new or leased Subaru vehicles to select from four national nonprofits or their hometown charity, OPHS. Each vote garnered $250 for the local shelter to help animals in their care. "We are very grateful to Subaru of America and Koenig Subaru for their ongoing commitment to pets in our local community. For the past 12 years, our long-standing partnership has helped support nearly 200 animals for an entire year," shared Donna Halsaver, OPHS Board of Directors President who was present at the check presentation at the end of May. In past years, Bill Koenig and his staff have attended the OPHS fundraiser, Meowgaritas and Mutts, held the last Saturday in April every year, to present the check to OPHS. "This year, due to the Coronavirus, we had a quiet socially-distanced celebration," mused Luanne Hinkle, Executive Director of OPHS. "The funds really helped in this challenging time. We have a large shortfall as a result of having to cancel our annual event that typically garners over $200,000 for us." During the Share the Love campaign, OPHS held a successful adoption event at Koenig Subaru where one of the dealership's service bays was converted into a winter wonderland. The function offered free Santa pictures, along with the ability to adopt several litters of puppies and kittens."We are so pleased that Koenig Subaru is a partner. They are always willing to host OPHS and let the community know that animals are an important part of their family too," said Jacquelene Petersen, OPHS's Development Manager. "They really care for and love our furry friends."
---
Koenig Subaru Loves To Care for Patients - Katie J
When someone we love is diagnosed with cancer it has the potential to change our life forever. To honor the blood cancer survivors and patients in their community, Koenig Subaru contributes in the Subaru Loves to Care campaign at Olympic Medical Cancer Center in Sequim, Washington each year. Director, Dean Putt, Patient Navigator, Mikel Townsley, and a representative of the Leukemia and Lymphoma Society. A care table is established in the center's main foyer to display care packages for patients. And then an opportunity unfolds to personally present a package to a patient. Koenig Subaru's contributions are well-known in this community and on this special day, an added touch was spread across the care table – words of encouragement written on cards, compliments of students in the 1st grade classes at Greywolf Elementary School. Through the Subaru Loves to Care program, Koenig Subaru is able to share blankets symbolizing warmth, and stories of hope that bring an awareness to the fight against cancer. Today was no exception. The patient presentation to Stan instantly took a unique turn when it was discovered that he had once purchased a very special car from the dealership —a beautiful 1975 Corvette. More specifically, the purchase was in support of a previous cancer fundraising effort sponsored by Koenig's over 15 years ago. The Corvette is still a prized possession in the Chapple family. It's Love to Care moments like this that make us stop and think about the bigger script. While promoting dignity, strength, and hope, it also demonstrates the importance of fighting the good fight together as a team. Stan, you are a hero. You are a fighter. You are a true representation of hope. And from the words of a childhood cancer survivor who could not meet you today, "Cancer is a word we cannot be afraid of. Cancer is a disease we can beat. And cancer is something we have to continue to talk about." Thank you for sharing your story with us today, Stan. Continue your fight and we will continue our work to make sure that someday, there is a cure. (A special thank you to Jay Cline for providing photos, the Leukemia and Lymphoma Society for their tireless efforts to cure leukemia, lymphoma, Hodgkin's disease and myeloma, and to improve the quality of life for patients and their families. Thanks also to Rob Edwards for his contribution in writing this story. The Edwards family truly understands the mission to beat cancer and continues to support efforts to bring awareness to the disease. Daughter Anne Edwards beat non-Hodgkin's Lymphoma nearly six years ago and continues to advocate for The Leukemia and Lymphoma Society.). Photo notes: From left, Mikel Townsley and Dean Putt (OMC), Bill Koenig, and Rob Edwards (LLS), other photo: Stan Chapple and Bill Koenig share stories together, and Permission from parents was obtained to display these cards.
---
Sharing the Love - Supporting OPHS - Luanne H
Sharing the Love is exactly what the Olympic Peninsula Humane Society (OPHS) does by adopting animals to loving, forever-homes. And, Koenig Subaru, a long-standing partner of OPHS, helps make this possible. Not only do they participate in microchip clinics and adoption events, they ensure all new car buyers know they can select their own Port Angeles & Sequim hometown Humane Society to receive $250 from Subaru of America during their nationwide Share the Love campaign. Besides Koenig staff's commitment to help, Koenig Subura kicks in their own donation to make the pot even sweeter. The total funds received, $13,000, were presented at OPHS' largest fundraiser of the year, Meowgaritas and Mutts. Over 420 appreciative onlookers applauded Koenig Subaru staff in attendance for their efforts. We thank Koenig Subaru and Subaru of America for their ongoing support. Pictured: Luanne Hinkle, OPHS Executive Director, Bill Koenig, Jr., Koenig Subaru and Donna Halsaver, OPHS Board President
---
Koenig Subaru Loves to Care for Cancer Patients - Katie J
When someone we love is diagnosed with cancer it has the potential to change our life forever. This is something Michael Koenig came to realize after his father passed away from blood cancer. It is in memory of his father that Michael Koenig of Koenig Subaru contributes in the Subaru Loves to Care campaign at Olympic Medical Cancer Center in Sequim, Washington. Director Dean Putt and Patient Navigator Mikel Townsley of Olympic Medical Cancer Center accepted 100 care packages to be distributed to patients currently going through treatment. With the facility being located in a remote town on the Olympic Peninsula, the care packages provide an extra touch of compassion and support from the surrounding community. During the care package delivery Michael Koenig and representatives from the Leukemia & Lymphoma Society were invited to meet some of the patients that would be receiving care packages during their infusion treatments. Roberta Loushin would spend several hours in treatment and was happy to have her niece join her for the day. Roberta took the blanket to wrap around her legs and read a message of hope that put a smile on her face. It was at this time that the impact of Subaru Loves to Care was felt by all, through a simple action of gifting someone a blanket and positive message. Roberta, and thousands of patients just like her, have a long and hard battle ahead of them. Subaru has gone the extra mile to show cancer patients that they are not alone and have the support of their community. Thank you Subaru for your commitment and care!
---
Subaru and NWF Love the Earth! - Lili R
The second graders at Helen Haller Elementary have enjoyed adding new plants to the garden and growing some plants from seed pods to draw pollinators to our garden. Thanks Subaru for partnering with schools to give back to the earth.
---
Koenig Subaru Contributes to the Humane Society - Mary Beth W
Bill Koenig Jr. of Koenig Subaru recently presented a check to the Olympic Peninsula Humane Society for $18,000 from the most recent Share the Love promotion. The check was presented at the society's Meowgaritas and Mutts dinner and auction. Pictured from left are Linda Crow, Board President, Bill Koenig Jr., Koenig Subaru and Mary Beth Wegener, OPHS Executive Director. Koenig Subaru has selected OPHS as a recipient of Share the Love proceeds for the last several years. Thank you, Bill Koenig and Koenig Subaru!
---
Port Angeles Subaru Dealer Gives Back - Danette G
Bill Koenig Jr, at Koenig Subaru in Port Angeles, WA. recently shared his love of animals by generously gifting Peninsula Friends of Animals with a check for $500. He has also participated in an adoptions promotion which resulted in forever homes for some of our loving cat rescues. It is gratifying to have a local business with a heart and love promise that supports our rescue and spay/neuter mission. Danette Grady Executive Director
---
Be a Butterfly Hero - Leigh K
Koenig Subaru had a presentation to the first grade class at Grey Wolf Elementary on how they can help the monarch butterfly and other pollinators. Each student was presented a package containing a Ranger Rick wildlife notebook and a seed package. the students where then given a milk container with dirt and they then planted their seeds, watered and put them in the window to watch them grow. At the end of the school year each student will be able to take their plant home to plant in their yard.
---
Koenig Subaru Adopts Greywolf School 1st graders - Donna H
This school year Koenig Subaru adopted the 1st graders at Greywolf elementary in Sequim. Each child received a book and back pack plus play ground equipment including jump ropes, footballs, soccer balls and play ground balls. The teachers received essential materials to help in the classroom
---
Jammin In the Park - Steve Z
On September 5th Koenig Subaru sponsored the first annual JAMMIN IN THE PARK and opening of the new water front In conjuction with Nor-Wester Rotary. Events included live bands, a kids zone, beer garden and information booths with Clallam county land trust, Port Angeles Food Bank, Friends of the Library, Fiero Marine life center, Olympic Peninsula Humane Society and the Port Angeles Dog Park
---
Koenig Subaru Loves the Earth - Jessica H
Koenig Subaru Employees assisted Members of the Port Angeles Food Bank and Clallam County Workers with their Annual DUMP DAYS event. For this 1 day event 762 visitors donated over $8000.00 to the Food Bank Cause and dropped off over 260 tons of waste.
---
Koenig Subaru supports Olympic Peninsula Humane Society - Mary Beth W
This organization is in the process of raising funds for a new facility. Their current facility is 50 plus years old and in need of severe repairs just to maintain its daily operation. Koenig Subaru has supported this organization for years including employees being past board members. We are excited about helping them with their dream completing this well needed facility with a donation in excess of $6000.00.
---